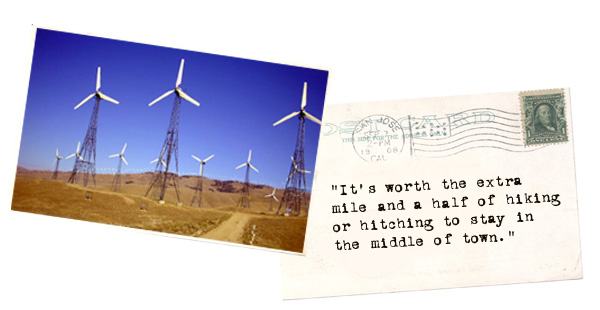 Tehachapi and Mojave
The wind farms on the ridges above Tehachapi are the second-largest set of windmills in the world and the top location for power output. The 5,000 turbines generate about 800 million kilowatt hours of electricity annually.
There are at least four competitively priced brand-name motels in the full-service town of Tehachapi and four independents. Our top pick is the La Quinta Inn (500 Steuber Road, 661 823-8000). This is the former Travelodge -- clean, modern and couple miles removed from downtown. We've also had decent nights at the Best Western Mountain Inn (418 W. Tehachapi Blvd., 661-822-5591). For about $20 more than the La Quinta, you get a superior location in the heart of town, within walking distance of many restaurants, a full-service grocery and a big-box discounter. Tehachapi is pretty spread-out for a trail town, so location counts if you're operating on foot.

Las Palmas (108 S. Green St., 661-822-5506) can be a very good Mexican restaurant on the right night. But on the wrong night, it's just plain bad. Not a consistent performer, but one that we'd still try again. Jake's Steakhouse (213 S. Curry St. 661 822-6015) had decent food, what passes for an upscale dining room in Tehachapi, and very good service.

There was an era when the decision to hitch east to Mojave or west to Tehachapi was a toss-a-coin proposition. That era is long-since gone. Tehachapi has grown into a full-service town, whereas Mojave is still little more than a long frontage strip of boarded-up storefronts and low-end motels. Neither one is a garden spot, but Tehachapi is clearly the stronger choice now. If you are dead set on going to Mojave, note that the fabled White's Motel has morphed into a Day's Inn (16100 Sierra Hwy., 661 824-2421). They will reportedly accept resupply boxes (but no more free trailhead shuttles). Mojave's culinary options boil down to seven fast-food franchises, a dicey-sounding Chinese place and Mike's Roadhouse Cafe (15834 Sierra Highway, 661 824-2744), which has received very mixed reviews.