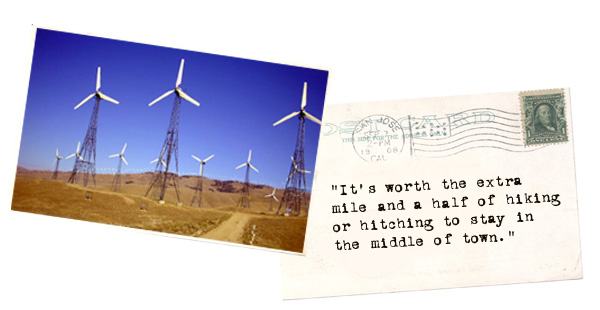 Tehachapi
The wind farms on the ridges above Tehachapi are the second-largest set of windmills in the world and the top location for power output. The 5,000 turbines generate about 800 million kilowatt hours of electricity annually.

Tehachapi gets some of the heaviest railroad traffic for any single-track block on Earth -- 40 trains a day. The local wonder of the world is the Tehachapi Loop, a .73-mile stretch of track that doubles back on itself. It has been designated as a National Historic Civil Engineering Landmark. This isn't the only rail loop near the PCT. The Cantera Loop, near where the PCT crosses the Sacramento River, was the scene of California's worst environmental disaster.
Tehachapi is big enough to not give a damn about PCT hikers. It has a KMart at the west end of the main drag, Tehachapi Boulevard. The post office is a long walk from anything. There's a second commercial strip on Tucker Road (aka 202, the prison highway) west of the center of town that contains two supermarkets, a sporting goods store, 10 restaurants (mostly fast food) and a UPS store. Unfortunately, if you are resupplying out of Tehachapi, you're either making the long walk to Tucker Road or the even longer walk to the post office.

There are about three dozen restaurants in Tehachapi (compared to the seven fast-food outlets in Mojave). Many of them are an unreasonable walk from downtown. I can recommend two near the city center. Jake's Steakhouse (213 S. Curry St., 661 822-6015) is old-fashioned surf-'n'-turf, a straight shot of the 1970s. Take a closer look though. There are more than just steaks. Jake's will probably always be my go-to choice for a decadent meal after the brutal desert section. As long as you've showered you're good. This is a nice restaurant but they're not particularly snooty about your town clothes. (I have this perfect memory of Chowder, with his trail clothes in the wash, sitting down with a group of other hikers, wearing a rain jacket and rain pants that were more duct tape than fabric. Las Palmas (108 S. Green St., 661 822-5506) is standard Mexican fare. Over the years it's been hit or miss, but I'd certainly try it again. Twice now I have seemed to be the only non-local in the place. It's packed for dinner every night of the week.

On the lodging front, the Best Western Mountain Inn (418 W. Tehachapi Blvd., 661 822-5591) is a longstanding hiker favorite (which may have been recently rebranded as "SureStay by Best Western"). It's been so extensively remodeled that I wouldn't recognize it from the street compared to a decade ago. It's a good location in a hard-to-walk city, with a 10 percent hiker discount. They are cool with up to four in a room, which works out to a very good value assuming you have three friends. Confusing matters, there's another Best Western next door, the Country Park. The Mountain Inn is the one you want. Adventist Health Medical Center (305 S. Robinson St., 661 823-3000) is the hospital.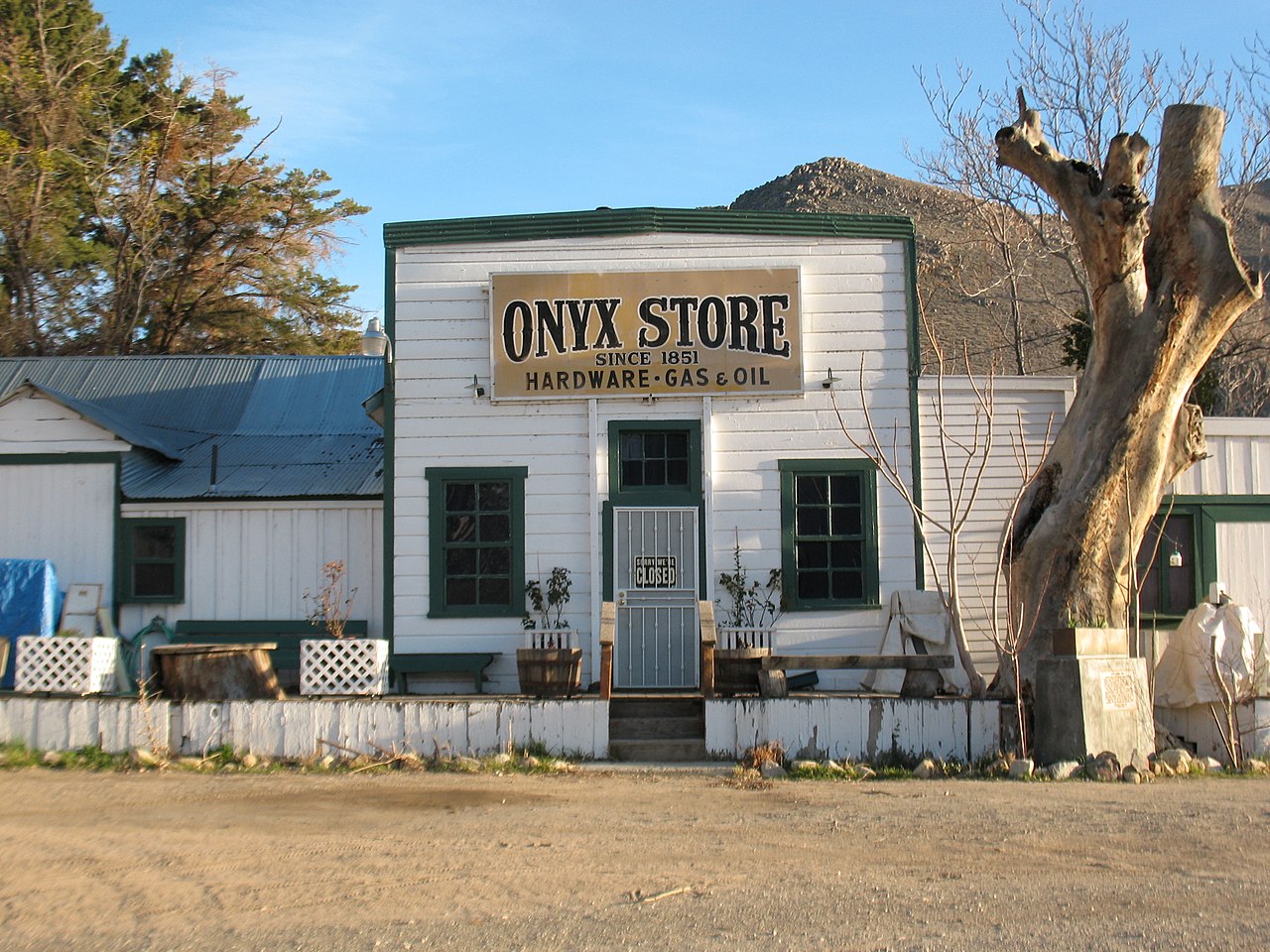 The Tehachapi versus Mojave argument was settled a long time ago. Tehachapi, a small city, is the right choice. Mojave, a glorified truck stop, is the wrong choice. After Tehachapi, your options for any support are pretty grim. The Old Onyx Store (23002 Hwy. 178, 760 378-3299) a beloved PCT favorite that has been in business since 1851, looks like the one good near-trail vendor for limited restaurant food and supplies. For 2018 they'll be open 10-6. Food service shuts down at 5. You could call and check on specific items (e.g. fuel canisters) to augment a box sent to the Onyx PO, but you could not do a full resupply out of the store. Note that there are no Saturday hours at the Onyx PO.
Whatever it is that takes you off the trail, it better be important because it's going to be one hell of a tough hitch -- 30 miles plus -- in either direction from Walker Pass. (Pretty much the only thing that could screw you worse would be having to bail out on Jawbone Canyon Road, which is more than a day's walk to pavement.) Kern County transit does run a bus from Lake Isabella and Kernville to Ridgecrest Mondays, Wednesdays and Fridays.
If you absolutely must get to town from Walker Pass and are undecided whether to hitch east to Ridgecrest or west to Lake Isabella, I recommend you go east. Ridgecrest is a full-service city attached to the China Lake Naval Weapons Station. It's not a garden spot. I've had the misfortune of being stuck there when the daytime temp topped 110. But with a hospital, supermarket, cheap motels and 40 restaurants, it gets the job done. I recommend the Best Western China Lake Inn (400 S. China Lake Blvd., 760 371-2300). Your options to the west, Lake Isabella and Kernville, are simply miserable places to be stuck. Coming off of Walker Pass, I've had to spend an overnight in Kernville twice. There will never, ever be a third time. I have no recommendations for lodging or food in Lake Isabella or Kernville. I strongly suggest that you avoid them altogether.
At a motel in Kernville, a front desk clerk turned to the owner and said, "This guy walked here all the way from Mexico!"
"Now what the hell did you do that for?!"