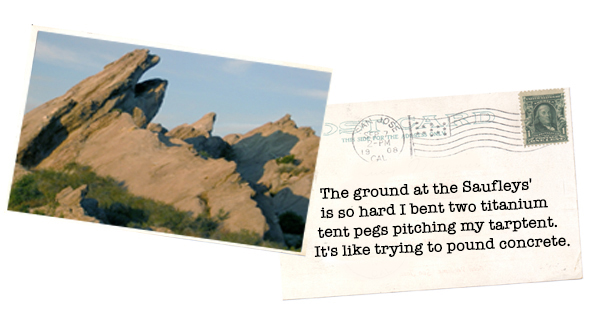 Agua Dulce
The rock formations at Vasquez Rocks are about 25 million years old and were eventually exposed by seismic events. In the modern era, its proximity to Los Angeles made it an attractive and economical target for shooting on location. The list of Vasquez Rocks' appearances includes, among many others, the original Star Trek, many TV Westerns and the films "The Flintstones," "Blazing Saddles" and "Star Trek V: The Final Frontier." More recently Vasquez Rocks showed up in the "Big Bang Theory" episode titled "The Bakersfield Expedition."
While Wrightwood is a full-service town stop, Agua Dulce is pretty bare bones, even by PCT standards. Of course the only thing PCT hikers really care about in Agua Dulce is the status of Hiker Heaven (11861 Darling Rd. 661 268-1235). If you don't know the story of Donna and Jeff Saufley, there's no room for it here. Someday, surely, it will be a book. After 20 years and 3,000+ PCT hikers, the legend lives on. Hiker Heaven is neither a business nor a non-profit organization. It is a family with a really big heart and a huge commitment to the PCT community.

Hiker Heaven features everything you need at this point. It can also be a massively distracting thru-hiker social scene when the herd blows through. The crossroads of the hiker world, so to speak. The crushing traffic has led to some policy changes at Hiker Heaven. There is a two-night limit. And during the peak period around Memorial Day they will be offering overnight space only to those with a PCTA thru permit. Be sure to read the Web site very carefully before you roll up.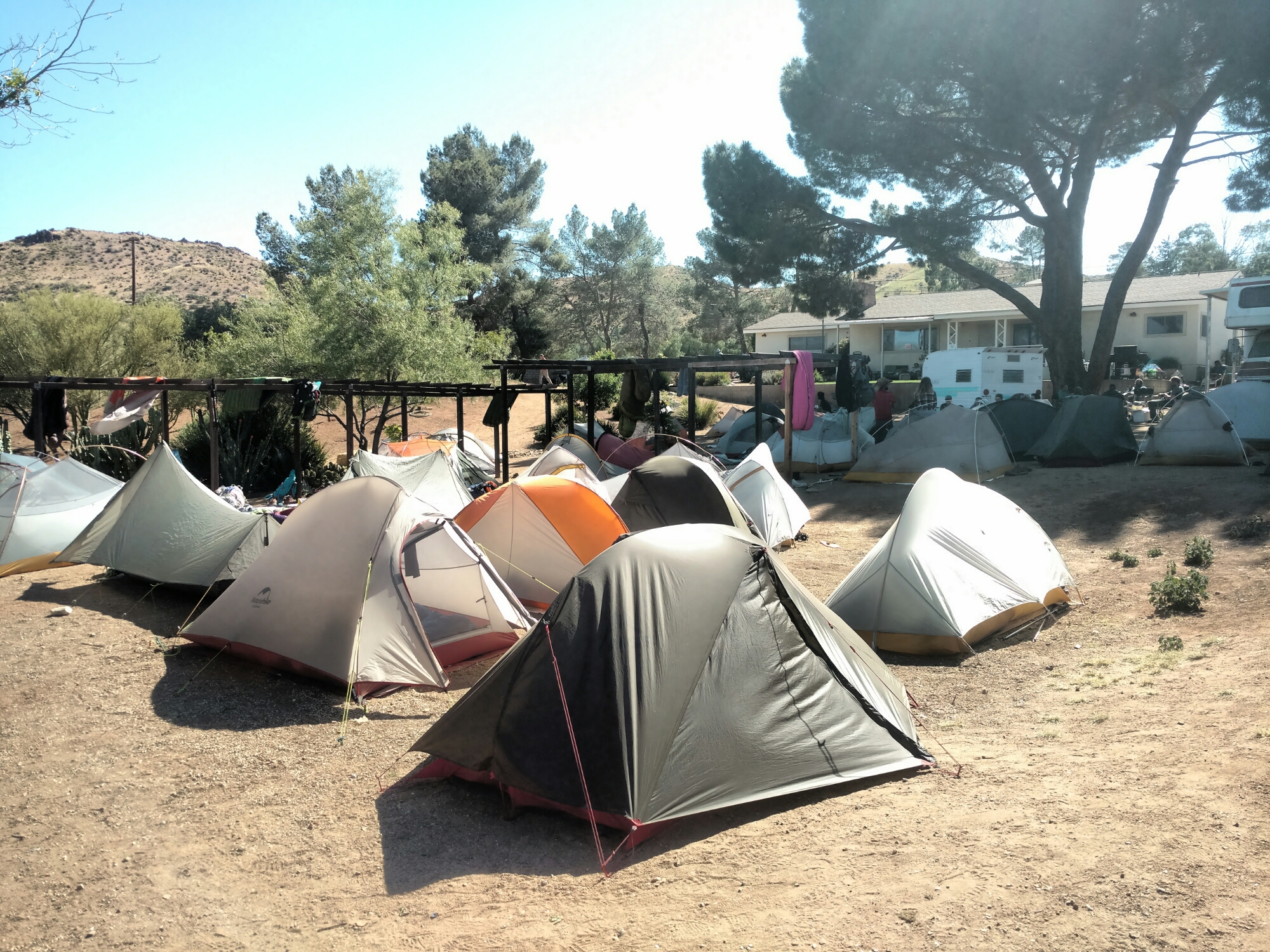 I don't know a PCT hiker who doesn't feel some intense affection for the Saufleys. Donna and Jeff are going to be canonized at some point. In the long history of the Pacific Crest Trail, nobody has ever done what they have. Currently, Hiker Heaven needs your support to replace all the infrastructure that was dispersed after the shutdown in 2015. See the Web site. It doesn't matter if you and 20 of your best trail friends are ready to party: Show some respect here. And do something bold: Ask Donna if you could help out somehow. For example, although they'll never mention it, the amount they spend trucking water in to support the PCT community is staggering. Your shower at Hiker Heaven was blissful. But it was not free.

Aside from Hiker Heaven, Agua Dulce features a very good grocery store, Sweetwater Farms (33301 Agua Dulce Canyon Rd., 661 268-0700) with a coffee bar and a full-service deli. You could definitely resupply there. Don't expect supermarket prices. At the end of 2017 Donna Saufley told me that it's under new ownership but holding a steady course. The other grocery in town is the old-time Agua Dulce General Store (33355 Agua Dulce Canyon Rd., 661 268-1042), which I've never had any reason to patronize.

I don't know anything about the relatively new Sweetwater Bar and Grill (33310 Agua Dulce Canyon Rd., 661 268-0688). The dinner lineup is essentially pizza, pasta and chicken and it looks affordable. It might be the best restaurant for a considerable distance. Also, I have no first-hand knowledge of either of these but the Hiker Heaven Web site gives them a thumbs-up: Maria Bonita (33311 Agua Dulce Canyon Rd., 661 268-8004) for reliable Mexican and Big Mouth Pizza (33323 Agua Dulce Canyon Rd., 661 268-7500). Along with Sweetwater Farms, these three restaurants are all essentially adjacent, in "downtown" Agua Dulce.

Agua Dulce, which is an unincorporated community, does not currently have a post office. The nearest USPS facilities are in Santa Clarita to the west and Acton to the east. The little town of Acton is six miles east of the trail. Santa Clarita, a full-service city, is eight miles to the west. You're much better off sending a box to Hiker Heaven. There is county transit service Monday, Wednesday and Saturday from Agua Dulce Canyon Road to both Acton and Santa Clarita. If you need to get into Los Angeles for some reason, the Newhall Metrolink station is also at the end of that bus line. Double-check the bus schedule when you're in the vicinity. Important note: Per the Hiker Heaven Web site, you may need to call in advance to request a flag stop in Agua Dulce. If you are in need of medical care or an outfitter you are most definitely headed west to Santa Clarita.

After staggering out of the Andersons, you may hear of a place called "Hikertown" where the trail crosses Highway 138. I cannot recommend it as I have no firsthand knowledge about the operation. There are numerous mentions in online journals. The word "creepy" seems to appear with some regularly. This is the backstory, related by Yogi on PCT-l. Twice I have elected to load water at the front fence rather than set foot on the property. There is a shaded and sheltered space behind the Neenach School at the end of the road, where hikers can rest before beginning the night walk on the Aqueduct. (Watch the sap from the pine trees. It will be a permanent addition to your gear.)

For the handful of graybeards who know PCT history, Hikertown is the current incarnation of Jack Fair's house. One certifiably crazy, obscene and beautiful prince of a man, a savant poet who loved and cared very deeply about hikers long before the PCT was cool. He would open his door to any hiker. Then he would reportedly talk for eight hours straight, pausing only to light another cigarette.

This is an excerpt from Freebird's 1997 journal:

"He then barred the door of the house with his arm and said, 'Iíll tell you what, you son of a bitch. If you answer one question correctly Iíll let you in!'

Iím not so sure that I really wanted to go in at this point.

'Whatís the most misconstrued word in the English language?'

Thank God it was an easy question! I answered, 'LOVE - Love is almost always confused with lust. Most of the love songs that we hear on the radio are really lust songs.'

He exclaimed, 'You got it right, you son of a bitch! Now get in there and take a shower -- you stink!' Ē

May Jack Fair's legend be a blessing for all PCT hikers crossing the Mojave.


© 2000-2018 David Plotnikoff. All rights reserved.