Kennedy Meadows
As of the 2010 decennial census, Kennedy Meadows had a population of 28, making it the smallest town stop on the PCT -- with the possible exception of White Pass, which is not a town.

Although geologists say the Sierra Nevada technically started at Walker Pass ("the Sierra Nevada Tail"), Kennedy Meadows is the true end of the desert. You'll be seeing cacti right up until you hit the Sherman Pass bridge on the Kern, at which point you will turn right and walk several hundred yards east on the road to the store.
Any hiker who is expecting a conventional town stop in Kennedy Meadows needs to dial back their expectations. Although it gets a fair amount of 4WD traffic running the Sherman Pass circuit and a few fisherman working the stocked sections of the Upper Kern, it's never been a true tourist destination. There is no commercial infrastructure in KM for tourist traffic. This is essentially an island of vacation home in-holdings completely surrounded by federal wilderness. Kennedy Meadows can't be considered a real town stop for two reasons: No lodging and no post office.

The Kennedy Meadows Store (mailing address: 96740 Beach Meadows Rd., Inyokern, CA 93527, 559 850-5647) is downtown KM. When the grill is running it's decent food for the middle of nowhere. The specialty of the house is -- what else? -- burgers. It'd be nice if they started running breakfast, lunch and dinner in high season. The social scene on the big deck is always enjoyable. I once went seven days on the trail without seeing another human before I stumbled into the store. I recall once in early July sitting on the deck at the store, with my swollen feet out of my shoes, when some old woman whom I did not know walked up and said, "You're way late, you know." Right. Thanks for that.

I have warm memories of the store folks letting me throw down in the little community amphitheater next door once when I came limping into town in bad shape. Although I camped directly next to a bear trap the size of a small car, I got a good night's sleep. The preferred hiker water source for the area is the red tap in front of the store. You could resupply out of the store if you're not particularly picky about what you're going to be eating for at least a week. The overwhelming majority of people opt to mail a box. The store folks are completely hip to the needs of PCT people.

The Forest Service has abandoned maintenance of the bleak Kennedy Meadows campground. Not that there was much of anything there in the first place. You should check with the store for the current status of the campground. As of 2017, it's pretty clear the campground is a sub-optimal choice, with no water and a long walk to basic services. The question of where to put PCT hikers hasn't been settled.

There is no post office in Kennedy Meadows. Mail your resupply to the store at the address above. If you need a real town, you're looking at a 50-mile ride into the city of Ridgecrest. In the event of a bona fide medical emergency, there is a BLM fire station at the intersection of Chimney Peak Road (a.k.a. Canebreak Road) and Kennedy Meadows Road, significantly southeast of the settlement.

Aside from the store, Grumpy Bears (98887 Kennedy Meadows Rd., 559 850-2327) is the only food option in town. (Don't ask me why it's not the possessive "Grumpy Bear's." That's one of the great mysteries of the southern Sierra.) There is a single breakfast offering on their Web menu -- an all-you-can-eat pancake special. You'd think if they really have been around for 70 years they'd know better than to dangle an all-you-can-eat deal in front of a bunch of PCT hikers. The rest of the lineup is your standard burgers, sandwiches and pizza. Grumpy Bears runs a shuttle service to and from the store (a two-mile round trip). It also offers paid Internet access. In the slow season Grumpy Bears may operate Fridays through Sundays only.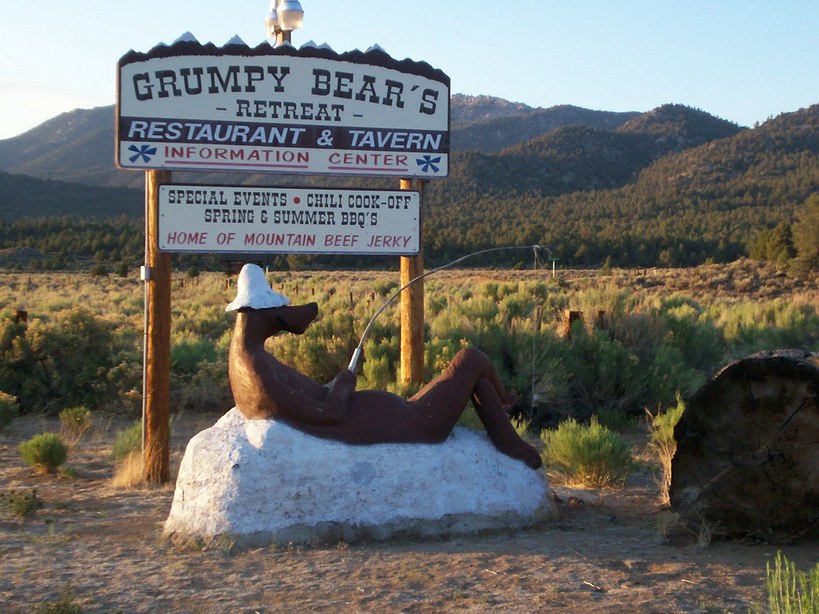 There is a persistent rumor of a second food service business in Kennedy Meadows -- Irelan's. It has been reported as living or dead several times over many years. Until there is conclusive evidence to the contrary, I would consider it dead.
Triple Crown Outfitters (98953 Sacatar Ranch Rd., Inyokern, 559 850-4453) is the third business in Kennedy Meadows you need to be aware of. This new enterprise, run by Jackie "Yogi" McDonnell and Matt "Worldwide" Signore, is across the road from Grumpy Bears and focused on the equipment needs of long-distance hikers. Seriously. She relocated from Kansas City to Kennedy Meadows. Which instantly makes her the second largest outdoors publisher on the Eastside, after Marty Lewis's Maximus Press in Bishop. If you know you're going to need something, try to contact them well ahead of time. If you did not mail an ice ax and crampons to KM and you find yourself having second thoughts, these would be good people to know. Jackie McDonnell does not lack for strong opinions concerning just about any PCT topic you would care to name. Although her PCT experience is not that of superstars such as "Tattoo Joe" Kisner or Scott Williamson (both of whom have logged six record runs on the PCT), it is deep and substantial. The lady knows her stuff. In her own way, she is a living legend of long-distance hiking. A chat with her is worth the trip from the KM store.
Beyond food, a resupply box and good company, the thing you need most in Kennedy Meadows is difficult to come by: intelligence on the trail conditions north through Cottonwood Pass or Kearsarge Pass. For example, if you knew the Cottonwood Pass/Horseshoe Meadows road was plowed and open, that could potentially make a huge difference if you needed to get into Lone Pine. If you can find a phone in Kennedy Meadows, call the Eastern Sierra Interagency Visitor Center in Lone Pine, (760) 876-6200.
While we're on the subject of phones, there's one final consideration in Kennedy Meadows if you have a bounce box: For the next 400-plus trail miles, your phone is dead weight. Off the PCT, you can bank on reception only in Lone Pine, Bishop and Mammoth. Anywhere else on the 395 corridor is iffy at best. You might want to consider going with a cheap calling card and mailing your phone way up the trail.
Note that there can be some confusion about Kennedy Meadows online. The Web site www.kennedymeadows.com pertains to the northern Kennedy Meadows on Highway 108, west of Sonora Pass. If you search for "Kennedy Meadows" the majority of the listings are going to be for the northern one.