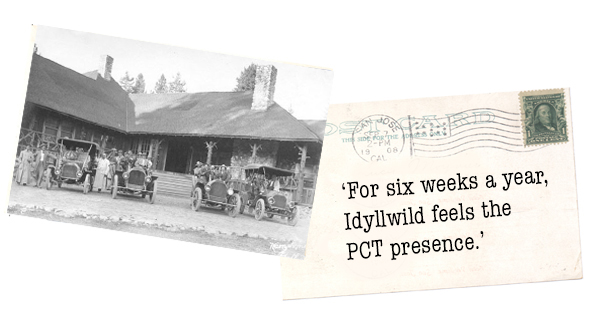 Idyllwild
At the start of the 20th century, Idyllwild's Genesis was a tuberculosis sanitarium. That original property on Strawberry Creek soon turned into the Idyllwild Inn. Today, you can still book one of the original cabins built in 1910.
Like Big Bear and Wrightwood to the north, tourism is the main business of Idyllwild. Although this town lacks the sad-ass ski hill element of Big Bear and Wrightwood, there's another big economic driver in the background: Real estate. Much of the funky mountain hamlet is vacation homes for Angelenos. Over the last 25 years, retirees have been gradually buying up those older vacation properties to use as primary homes. Today, the median age in Idyllwild isn't really 60, although it feels like it at times.

There's a lot to like in this really walkable town. (Like Wrightwood, everything you need or want is within a five-minute walk.) Historically, this wasn't a trail town. Before Yosemite Valley became the big-wall arena for Royal Robbins, Yvon Chouinard, Warren Harding and the Stonemasters, this was the center of climbing in California. The areas around Tahquitz Rock and Suicide Rock (which you'll see just north of the Devil's Slide Trail) are still name destinations, with several hundred routes. PCT hikers are a major presence for maybe six weeks of the year. Climbers are a big deal for six months. If you're tempted to climb here on a zero, understand this is old school trad. And graded like it. Gym climbers need to watch their step. If you don't know how to use a proper trad rack, forget it. This is a bad place to learn. If you're curious, the No. 1 Stonemaster John Long wrote the definitive history of old-school Tahquitz climbing.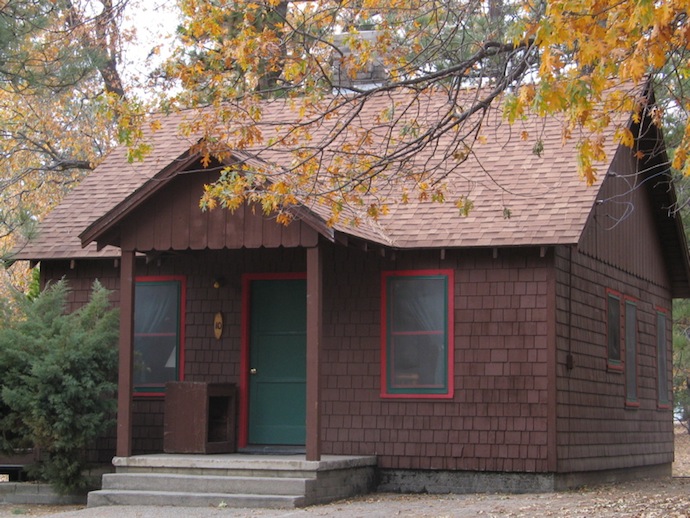 The Idyllwild Inn (54300 Village Center Dr., 888 659-2552) is the oldest hostelry in the San Jacintos. In the last 50 years it's been run by four generations of the Froehlich/White family. The historic vintage cabins are lovingly maintained and surprisingly affordable for small groups. With the Tahquitz Inn long gone, this would be my first choice in Idyllwild. They are very PCT-friendly, with a 10 percent discount and a trailhead shuttle service. See the Web site for specific instructions on resupply boxes. This is a rare luxury for PCT hikers: If you're taking a full zero, with two nights' stay, they'll do your laundry.
There's another standout alternative to the generic motels: The Fireside Inn (54540 N. Circle Dr., 951-659-2966). The Fireside has seven homey and clean cottages. This is another family operation with a long, proud history. Like the Idyllwild Inn, it represents an unusually good lodging deal for a group of hikers. Fireplaces and kitchen facilities are standard.
I have no experience with these two other very solid old-line lodging operations, but hikers and climbers have spoken well of these sister enterprises. The Silver Pines Lodge (25955 Cedar St., 951 659-4335) is about two blocks away from the core of the town. Like the Idyllwild Inn and the Fireside, the Silver Pines has been in the lodging business for well over 50 years and is far from being a generic motel. As with the other two, every room seems to come with a distinct identity and a story. Massive extra credit for having a koi pond. (How do they do that in that climate? Do they bring them in at night to sit around the fireplace sipping hot cocoa?) About half the rooms have kitchens. There are also cabins. My concern about the Creekstone Inn (54950 Pine Crest Ave., 951 659-3342) has only to do with proximity. It's three or four blocks removed from the core. Some people may find this to be an attribute, actually. Homey rooms and cabins. A billiard room, hot tubs in many rooms, a 24-hour Internet terminal in the lobby, free long-distance calling anywhere in the country and guest privileges at a full-service gym. Full stack! This is the more serene and sedate sibling to the Silver Pines.
I should not have to say this, but years of experience tell me this is still an ugly issue in Idyllwild and some other towns: If you try to pack more than the stated number of people into any of these special units, you're not only stealing these families' livelihoods, you are also poisoning the well for all future PCT hikers. Karma matters.
Under the general heading of "miscellaneous but necessary": There are two small grocery stores in town. Fairway is the one you want, on Village Center Drive. The laundromat is to the north end, on Maranatha. That's very close to the ranger stations for both the state park and the national forest. The post office and the library are in the strip mall on Village Center Drive. The high-end outfitter, Nomad Ventures, is on North Circle Drive a half-block past Cedar.
Many people will say this is the town stop where the ravenous hiker hunger really sets in. I'm not ashamed to admit that from here to Lake Tahoe I sometimes ate two lunches during town stops. If you're turning 20s consistently, you might be burning 4,000 to 6,000 calories a day. Something has to offset that. Those who are not in the habit of eating a full diner-style breakfast may want to consider it. Strictly for your health, have the sausage plus bacon and the three-egg omelet with biscuits-and-gravy on the side.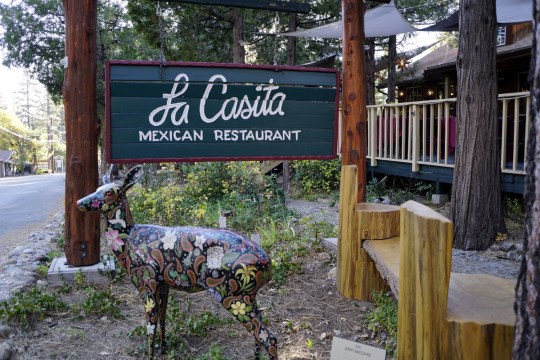 There are 18 restaurants in Idyllwild. Sometimes if seems as if the majority of the business goes to six of them. Of these six, I've only eaten at La Casita and the Red Kettle. I very strongly recommend both of them.
The Mile High Cafe (26600 Hwy. 243, 951 659-2008) is maybe a half-mile southwest of the town center. The menu is split between middle-of-the-road American and Asian fusion. It is pricey and ambitiously creative. I wouldn't have a burger here because there are just too many burgers along the PCT. Maybe try the chicken curry katsu, a beef teriyaki bowl or a "Korean BBQ rib taco."
Gastrognome (54381 Ridgeview Dr., 951 659-5055) has a completely unremarkable menu. Breakfast, lunch and dinner. Dinner is not cheap. From the Web site: "The mission is simple: serve delicious, healthy & affordable food and allow a clear path to communication." Huh? Am I going to become more eloquent after a meal here? Will I suddenly be speaking fluent French?
Ferro (25840 Cedar St., 951 659-0700), has a very arty and ambitious Italian menu. There's a lot here for just about any picky eater. This looks like it could be a very good value for dinner.
Fratello's (54295 Ridgeview Dr., 951 659-3900) is old school red-sauce-and-mozzarella Italian-American entrees plus pizza. Other hikers have mentioned they ate well there.
The Red Kettle (54220 N. Circle Dr., 951 659-4063) is a true Idyllwild landmark. If you have to choose between breakfast and lunch, take breakfast, particularly the omelettes. Lunch is the standard diner fare, burgers and sandwiches, all done consistently well. There's a reason why the Red Kettle is a PCT tradition. I strongly recommend it for value and service.
La Casita (54650 N. Circle Dr., 951 659-6038) has a very large menu of standard gringo Mexican fare. Something yummy for everyone. There's nothing that's going to earn them a Michelin star, but this is a really good place to pack on a lot of calories in a fun environment. Like the Red Kettle, this is a much-beloved and reliable institution.
There's a wild card option that might be a restaurant or might be something else entirely. The Idyllwild Brewpub (54423 Village Center Dr., 951 659-0163) seems like it may be a live music venue more than a culinary destination. Eight brews and a minimalist menu of basic grub. Memorable for having the suckingest Web site in town. It appears to be somehow associated with Ferro.
After rolling through Idyllwild in a storm (non-stop rain in town, big snow on the mountain and much consternation among the PCT pack) I have a tip to pass along. For those who might be sweating the Fuller Ridge crossing without an ice ax and crampons, just enjoy the town and forget about it. The easy roadwalk north out of town to Black Mountain Road is the no-stress, no-snow way to go. There's a reliable spring halfway up the climb and a big flat to camp on at the top. From there expect very little flat ground until you bottom out at the famous Snow Creek water fountain. (This is one of those rare stretches you can go from freezing your ass off to roasting your ass off in a matter of a few hours.)
I have never met a thru-hiker who has skipped Idyllwild. But -- if the epic multi-year fire closure south of town ever ends -- there could be a radical Plan B. Study the map of the five-way intersection at Saddle Junction. The left option is the truly hellish Devil's Slide trail into Idyllwild. The right option is the Willow Creek Trail. About 3.5 miles east on that trail is the Palm Springs Aerial Tramway. This would be the most over-the-top town stop in the history of the Pacific Crest Trail. If Lady Gaga was thru-hiking, you know she'd go to Palm Springs. There are two restaurants at the top of the tram. The Peaks is a seriously tony dinner house. The Pines is a cafeteria-style operation with soups, salads and sandwiches. The first person to do the Full Glam Town Stop should tell me how it went.
Idyllwild map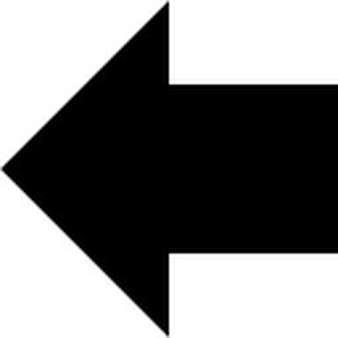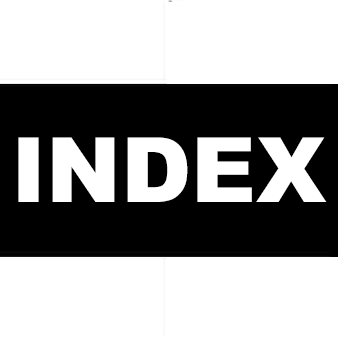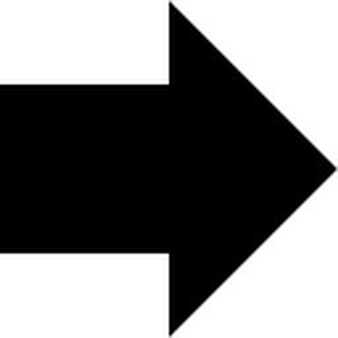 © 2000-2018 David Plotnikoff. All rights reserved.