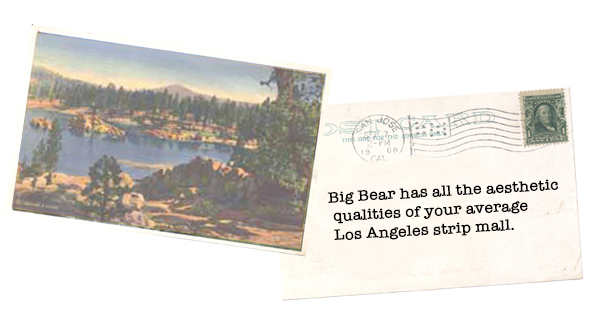 Big Bear

Bear in mind: "Big Bear" refers to two distinct communities -- Big Bear City and Big Bear Lake -- connected by a continuous strip of businesses on a busy highway. It is not convenient at all to hoof it from one Bear to the other, but bus service is available. Big Bear City is the one you will probably choose, given the proximity to the trail, the post office, etc.

Like Idyllwild, Big Bear is a modest ski destination with many older cabins and year-round vacation homes that have suffered from decades of benign neglect. The commercial centers, on Highway 38 (Big Bear Boulevard), have all the services and all the charm of your typical Southern California strip mall. There is a huge stock of surplus lodging in the summer months. Yet even with most of the motels and cabins running next to empty, it can take some work to find bargains, particularly on weekends. The default hiker hang of choice is the Motel 6 in Big Bear City (42899 Big Bear Blvd., 909 585-6666). When the pack comes through, the parking lot of the Six can be a good place to find rides back to the trail. Several journal writers have reported favorable experiences at Nature's Inn (932 Greenway Drive, Big Bear City, 909 585-2226), an eight-room operation with a hiker discount. For the budget-minded, there's also the Big Bear Hostel (527 Knickerbocker Rd., Big Bear Lake. 909 866-8900), with semi-private rooms and dorm beds on the cheap. You'll need to furnish your own towels, soap, shampoo, etc. Read the Web site carefully for resupply box instructions.

Those who opt to hitch west along the highway to Big Bear Lake (which may be necessary if you need a big supermarket and a drugstore) might wish to consider two lodging options among the dozens available:

The Big Bear Frontier (40472 Big Bear Blvd., 800 798 3924) is a very nice facility if you can get a deal on a mid-week cabin. The cabins are almost-new, immaculate and come with full kitchens plus an incomparable array of bathroom swag and the nicest showers this side of Palm Springs. Don't count on getting any decent rate on the summer weekends, when prices routinely double. The other Big Bear Lake value option we found is the somewhat funky Hillcrest Lodge (40241 Big Bear Blvd., 800 843-4449), a much smaller and older motel operation. One great advantage to the Hillcrest: It's directly across the highway from a very cool, locals-only ten-stool brewpub which we strongly recommend, the Big Bear Mountain Brewery (40260 Big Bear Blvd. 909 866-2337). This is the closest thing to a house-party you'll find in Big Bear. It is a superb place to eat and drink way too much.

The last time we counted, there were more than 70 restaurants in greater Big Bear. Pretty much anything you could desire. On the strip somewhere around where Big Bear City and Big Bear Lake almost merge, there's a decent if unremarkable Mexican place, the Sonora Cantina (41144 Big Bear Blvd., 909 866-8202). Good service and good value. For a more authentic Mexican hole-in-the-wall (six tiny tables, which are almost always full) see La Paws, (1128 W. Big Bear Blvd., 909 585-9115), a taqueria that has had a strong hiker following for many years.

Other old-line restaurants consistently rating a mention in hiker journals include Thelma's (337 W Big Bear Blvd., 909 585-7005), particularly for breakfast, and Firehouse Ribs (1117 W. Big Bear Blvd., 909 585-5686). Regrettably, we didn't have time to try either.

Bottom line on Big Bear: This is a town stop that has almost too much in the way of choices for both food and lodging. Compared to what came before and what will come after, it feels almost like an annex of metropolitan San Bernardino.