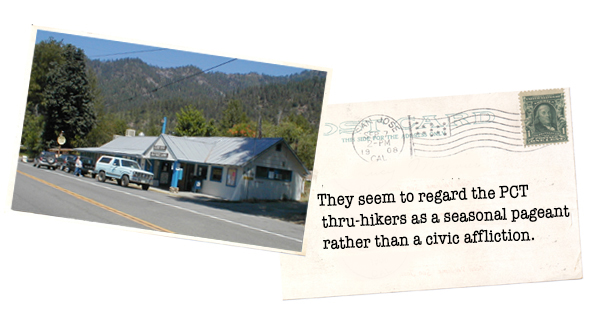 Seiad Valley
Seiad Valley, on the Klamath River, is smack dab in the heart of the State of Jefferson. A state of mind. A state of grace. An inebriated state. Take your pick ...

You will see the distinctive ''XX'' state seal on everything from barns to highway cleanup signs. You will hear State of Jefferson radio. And see State of Jefferson bumper stickers on every other pickup. Somewhere between Castle Crags and Etna you entered a space that is not California. The State of Jefferson, comprising the northernmost counties of California and their immediate neighbors in Oregon, was the product of a secessionist movement that caught fire just before World War II. While the road maintainance issues that were the original flashpoint have long since been settled, the basic Jefferson State of Mind is alive and well today, fiercely and stubbornly separate from the affairs of Sacramento and points south.
Seiad is a classic wide-spot-in-the-road settlement, blessed with few buildings but just enough services and chutzpah to call itself a town.

On its face, this is a beaten-down little settlement populated mainly by trailer-dwellers with no apparent means of support. Yet if one were to describe Seiad as Dogpatch-by-the-Klamath, that would be discounting the most important element in any town stop -- the human factor. Simply put, Seiad has more nice people per capita than just about any other trail town. To a person, everyone at the store, the cafe and the trailer park -- pretty much everyone we encountered -- was kind, thoughtful and totally attuned to the PCT hiker culture. They seem to regard the PCT thru-hiker pageant as seasonal entertainment, rather than a civic affliction. The young cooks and new management of the tiny cafe were particularly sweet and warm. (Again, if ever there was a strong argument for routinely tipping 20-25 percent in trail towns ...)

In spirit, Seiad is the anti-Belden, a scruffy river encampment with a big heart. And all it really needs -- particularly in August when the temperature routinely hits the triple digits by noon -- is a bar.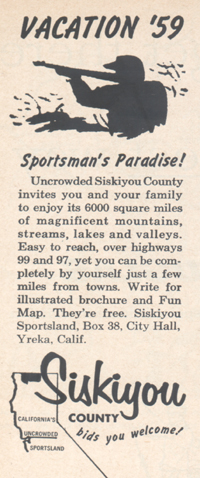 The Seiad Valley Store and Cafe (44719 Hwy. 96, 530 496-3399) isn't the heart of town, it *is* the town, along with the neighboring Mid-River RV Park and post office. The store carries a small but significant amount of hardware for gear repairs, plus a variety of fuel and PCT-type trail staples such as ramen and Lipton's. Bear in mind that if you want to partake of the cafe's legendary pancake challenge -- five one-pound flapjacks in a stack about the size of a Douglas fir stump, a challenge met by only seven people in 18 years -- you better call ahead and double-check cafe hours -- 530 496-3340. As of mid-2004, the cafe was open 7 a.m. to 4 p.m. Monday-Thursday and 7 a.m.-7 p.m. Friday and Saturday. In other words, if you roll into town after 4 p.m., plan on either grazing out of the store or firing up a cat stove. For people with more sense than to take the pancake challenge, the burgers and shakes are a good call at the cafe. The burgers, in particular, are downright cheap. (Two should hit the spot.)

Seiad has an on-again-off-again rooming house/B&B/restaurant/saloon, the Wildwood, (45200 Hwy 96, 530 496-3195). For the last five years it has operated only as a white-tablecloth restaurant. Your only other lodging choice in town is a spot in the RV park adjacent to the store (we hesitate to call it a lawn spot -- more like a spot of dead vegetation where a lawn once existed). The front section of the trailer park is occupied exclusively by nine large RVs and trailers owned by gold miners. It's unclear where vocation starts and avocation ends in these parts. Everyone has a ton of serious equipment -- hydraulic pumps, vacuum dredges, sluice boxes, etc. -- crammed onto their little patch of lawn.

Hikers who haven't enjoyed the luxury of indoor plumbing since Etna -- or even Dunsmuir -- may want to curb their expectations for Seiad. The trailer park's coin-operated showers are among the least savory we've encountered anywhere in the developed world. The black mold on the walls and ceiling is not a housekeeping problem as much a structural defect, due to the lack of proper ventilation. As a general policy, we eschew any bathing facility where the odds are that we will emerge more contaminated than went in. Re-reading Cindy Ross's "Journey On the Crest," we see that nothing on this front has changed since the mid-'80s -- except the attitude of the management. These are really nice people. And nice people spring $50 for a bathroom fan.

One off-the-track lodging option we haven't tried is the Thompson Creek Lodge (no listed address, 530 496-3657) about 7 miles from the trailhead. The owners provide shuttle service from the store and back to the trailhead. The Klamath River Resort Inn (61700 Highway 96, Happy Camp, 530 493-2735) is a long 10 miles downriver from Seiad Valley.