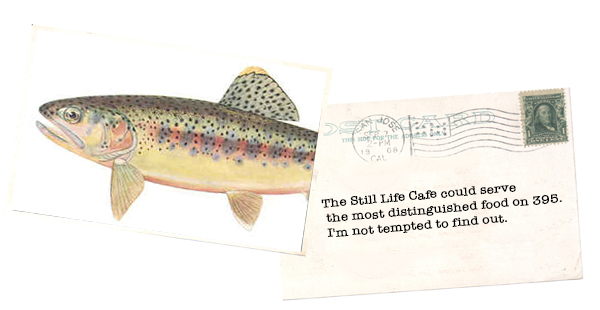 Independence
The official state fish of California is the golden trout. The sole source of golden trout eggs in the state is the Mount Whitney Fish Hatchery in Independence. You can rent out the historic facility for weddings.

Independence is much smaller than neighboring Lone Pine -- something between a bona fide town and a wide spot in the road. For full-service amenities and superior lodging we strongly recommend the 20-minute hitch south on 395 to Lone Pine. Still, if you're looking for an east-side resupply option to break up that long haul from Kennedy Meadows to Vermilion Valley Resort, Kearsarge Pass is the preferred lateral and Independence is the nearest settlement with a post office.

If you're coming out over Kearsarge, there are three motels on the main drag, Edwards Street. All are older motor courts, with rooms in the $60 range in-season. From the road we couldn't see much difference between the three:

The Courthouse Motel, (157 N. Edwards St., 760 878-2732)

Ray's Den Motel, (405 N. Edwards St., 760 878-2122)

The Mt. Williamson Motel, (515 S. Edwards St., 866 428-4352) This is a hiker-friendly operation with laundry on site and a hot breakfast included in the room rate.

Additionally, if frou-frou quilts and antiques are your thing, the Winnedumah Hotel (211 N. Edwards St., 760 878-2040) is a bed-and-breakfast in a refurbished 1920s hotel right on the highway, next to the Courthouse Motel.

As of spring 2012, the minimalist restaurant lineup is in a state of transition. There's still the Subway sandwich shop in the Chevron station (130 S. Edward St., 760 878-2618). There's some fancy cafe we didn't investigate in the Odd Fellows Hall. And Hooligan's Bar and Grill has turned into Duggan's Bar and Grill. We have yet to try any of these, preferring to hit the far more attractive options in Lone Pine.

As unlikely as this may sound, there is an unusual bistro featuring artful nouvelle French and North African fare, on the former site of the Sierra Grill: The Still Life Cafe (135 S. Edwards St., 760 878-2555). Hours are highly erratic and it can reportedly take more than an hour for your food to appear. How very French.