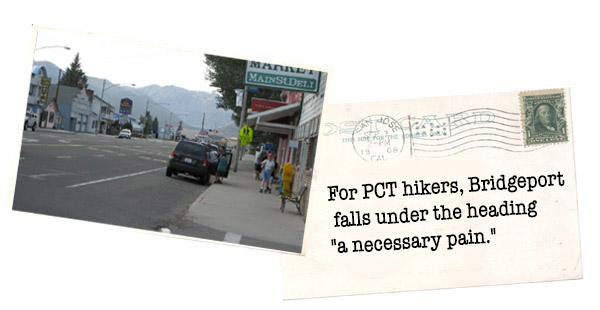 Bridgeport

Chances are good you will see many men in fatigues and camo on the streets of Bridgeport. Some kind of fashion statement. They fall into two categories -- deer hunters (X12 is a busy zone for both rifle and bowhunting) and Marines. The Marine Corps' mountain warfare training center is at Pickel Meadow, just north of town on the road up to Sonora Pass. The Marines come into town almost daily and tend to frequent the latte shop.
Bridgeport is a far superior town stop to neighborhing Lee Vining (which is just 20 minutes down 395, but several days away by trail reckoning). While the town doesn't cater to PCT hikers (we're a tiny blip compared to fishermen, RVers, Harley riders, etc) it's got most of what you need, short of a full-service supermarket and a real outfitter. (Unfortunately, the hitch in here from Sonora Pass can be one of the longest on the PCT.) On a somewhat disturbing note, as of 2010 it appeared that much of the tourist infrastructure in Bridgeport was on the market, including: Pop's Galley, Jolly Cone and the Hays St. Cafe, If this trend continues by next year the entire town will be for sale on eBay.

You'll find at least a half-dozen good motels of older vintage, all clustered tightly on a compact stretch of six blocks along Interstate 395. From north to south along 395: The Redwood Motel (425 Hwy. 395; 760 932-7060) is certainly the most visually arresting of the bunch, with a garage sale worth of assorted "folk art", including a fiberglass burro, assorted cow skulls and other kitsch. Motto: "Stop for the critters. Stay for the calm." An interesting hook: They fly flags of various nations outside each room. One wonders if each room is somehow tied thematically to the flag outside. The Cain House, (340 Main St., 760 932-7040) is an attractive, reasonably priced B&B. The Silver Maple Inn (310 Hwy. 395; 760-932-7383) is a very attractive older motor court we haven't tried. It is associated with the neighboring Cain House.

The Best Western Ruby Inn (333 Main St., 760 932-7241) is a clean, unremarkable motel, but no bargain. We've stayed there several times but probably won't be back because they tend to be priced well above the going rate for the town. The Victorian Hotel (no visible street number, 760 932-7020) may be the oldest rooming house in town. And it's certainly the cheapest (at $38.95 in 2009). Be sure to take a good look at the rooms here before you commit. Finally, anchoring the south end of the main drag, there's the Walker River Lodge (100 Hwy. 395; 800 688-3351), which we believe to be the nicest motel in town.

On the culinary front, we strongly recommend the Bridgeport Inn (205 Main St., 760 932-7380) for a big celebratory dinner. Great, very expensive steaks and a respectable wine list in an 1877-era Victorian hotel. Very fine dining you can appreciate in shorts and Tevas (a shirt would probably be a good idea as well). Rhino's Bar and Grill (226 Hwy. 395; 760 932-7345) is our second, much-more-affordable, much-more-casual go-to choice in Bridgeport, with very solid pizza and burgers and a dining atmosphere that might be described as a cross between a camp cafeteria and a beer hall. The chicken wings are not something for lightweights play around with. The "hot" are truly hot. Avoid the nuclear option on the wings. Jolly Kone (187 Hwy. 395; 760 932-7555) is a classic burger-and-ice-cream shack. The sign, a classic in its own right, reads "Ice cream, burritos, burgers, massage." Indeed!

The Sportsmen's Inn (760 932-7020) is an unremarkable diner and bar that we've never been motivated to investigate. The The Hays Street Cafe (21 Hays St., 760 932-7141) is a breakfast-and-lunch-only place at the south end of the main drag. Standard breakfast fare. Lunch is mostly burgers and sandwiches. Pop's Gallery (241 Hwy. 395; 760 932-1172) offers burgers, fish and chips and a sign promising "laundromat and showers." And on the highway a few minutes walk south of town, there's Casa Michaela (74970 Hwy. 395, 760 932-7525), a very attractive Mexican restaurant we have yet to try.

NOTE: On Oct. 1, 2007, the (northern) Kennedy Meadows Resort -- which had long been the alternate source for food, lodging and resupply at Sonora Pass -- suffered a devastating fire which destroyed the main lodge and seven cabins. The resort is back in operation, but it's advisable to call 209 965-3900 to double check on exactly what's available in the way of food, lodging and resupply-package handling. (We know, for example, that the lowest-rent rooms that were previously popular with hikers no longer exist.) As of early 2009, the Web site listed five cabins at $80, each of which can accommodate four hikers.