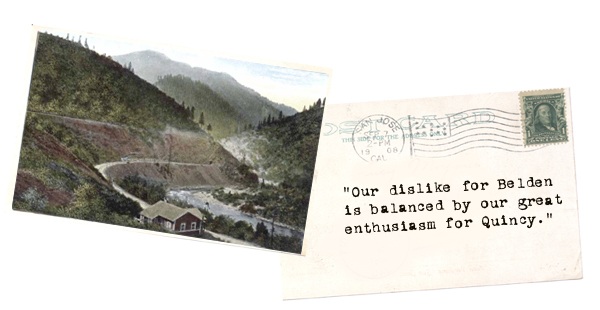 Quincy and Belden
La Porte, the tiny community south of Quincy, is reputed by local boosters to have been the site of the country's first organized downhill ski racing, with competitors on 12-foot ''longboards'' in the late 1800's. The top contenders reportedly reached speeds above 80 miles per hour -- with speeds no doubt climbing with each barroom retelling. Longboard races are still held on local slopes each year.
A hiker could do Sierra City to Chester without any problem if there was a resupply box at the Belden P.O. The only pain in here is the long, hot climb out of the Feather River canyon. Other than that, it runs really fast. Just like Graeagle and Blairsden, the Quincy-versus-Belden P.O. decision involves a whole different set of calculations if you're a section hiker fortunate enough to have car support.

Quincy has been sick for a long time now. It's easy to see the situation as intractable. Like so many rural communities in the West, the town never came up with a viable Plan B when logging collapsed. It lacks tourism infrastructure and marketing. The downward spiral looks like this: Few tourists = the failure of key businesses = less of a reason for anyone to stop here for more than a tank of gas and a six-pack.

The best ways into town are via Quincy-LaPorte Road at mile 1235 (little traffic) or Bucks Lake Road from Bucks Summit at mile 1270 (plenty traffic, 100 percent of which is headed straight to Quincy). The wrong way to get to Quincy is to come out on Highway 70 on the Feather River, 28 miles west of town. I do not know anyone who has attempted that hitch.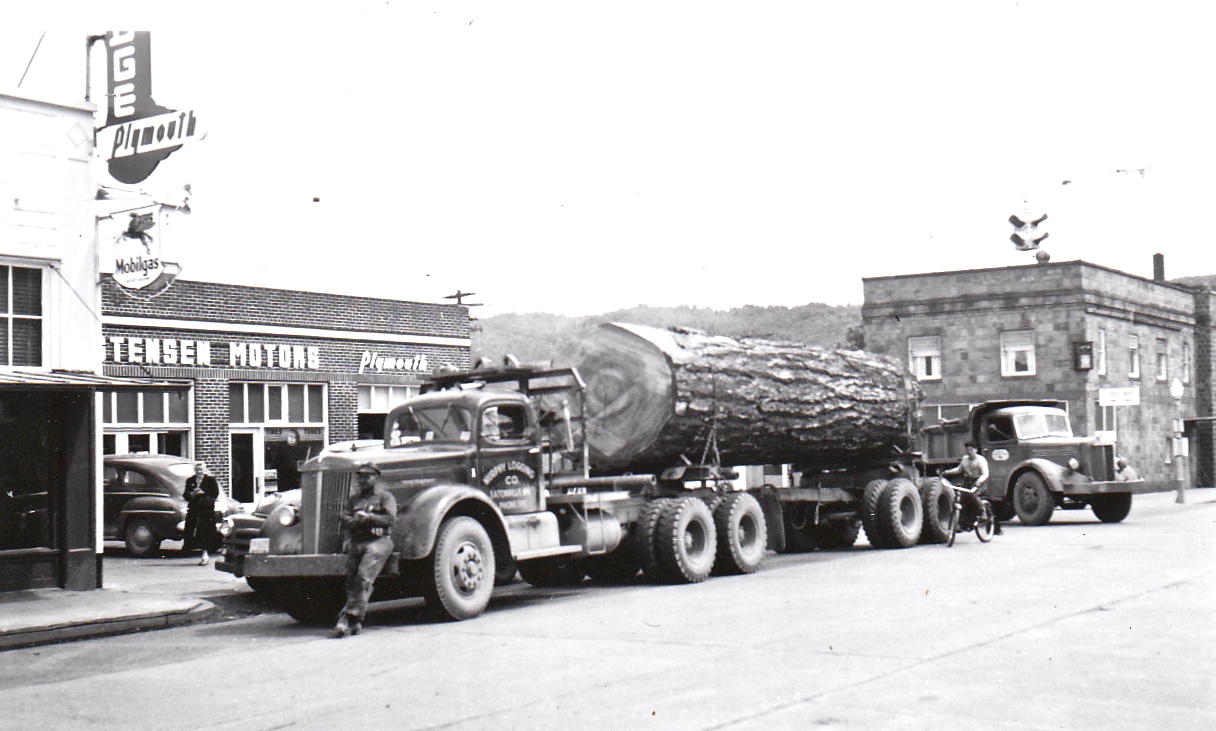 Once you manage to get there, Quincy is a very compact, walkable town. As of late 2017 there are a handful of restaurants left. Moon's (497 Lawrence St., 530 283-9900) would be my first pick for lunch or dinner. There are a lot of warm family memories there. It's not particularly distinguished cuisine (pizza, pasta and steaks) but the service has always been good. My family considers it the best surviving restaurant in town. Vegetarians should go straight to the pizza menu.
Patti's Thunder Cafe (557 Lawrence St., 530 283-3300) is the really solid breakfast place that, like Moon's, simply refuses to die. (This was formerly Morning Thunder.) There is one wild card pick in Quincy I have not tried, the Pangaea Cafe and Pub (461 W. Main St., 530 283-0426). A couple things jump out from the Web site: They take their beer seriously, with a continually rotating selection of taps. And they have some supply hookup that allows them to offer sushi on Thursday nights. You just don't see that very often near the PCT. Vegetarians will find a lot to eat there. The restaurant is closed on weekends. We'll see how long that lasts! Just being in Quincy means they're starting with a count of 0-and-2.
Lodging in Quincy boils down to one choice for my family, the Gold Pan Motel (200 Crescent St., 530 283-3686), which is on the west edge of town. It's possible that the only reason the Gold Pan has survived is it contracts out half of its rooms to the railroad. Good prices and good people at the front desk. (At one point there was a significant PCT discount. Ask about that.) If for some reason the Gold Pan is full, the alternative is its near-twin directly on the other side of the highway, the Spanish Creek Motel (233 Crescent St., 530 283-1200). This is another clean and well-cared-for older property.
The services you care about are all in one place: The Safeway supermarket (20 E. Main St.) is the anchor of a key strip mall on the east end of the main drag that also contains a US Bank branch, American Valley Hardware, Rite Aid, Dollar Tree and Round Table Pizza. If for some reason you need to jump up to Chester, the bus stop in front of the Safeway is the regional transit hub. This proved to be of critical importance one year when a fire shut down the trail at Quincy-LaPorte Road for a couple weeks. The Plumas District Hospital (1065 Bucks Lake Rd., 530 283-2121) is about a half-mile out of town where Main Street becomes Bucks Lake Road.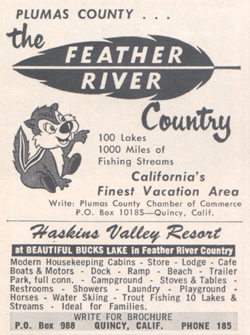 Getting to Quincy from downriver is a pain in the ass, but I would attempt that 30-mile hitch before ever spending even 10 minutes in the Belden Town Resort. Seriously, keep walking. This is not a town, but rather a private compound with some cabins, a lodge, a convenience store, a restaurant and a bar. PCT journal writers have been recording sketchy encounters here for decades. This vaguely creepy outpost has supposedly been in turnaround mode for almost 10 years now. I am not inclined to find out. I do not know of any PCT hiker who has ever spent the night there.

Back in 2013 the Belden post office relocated about a mile upriver to Caribou Crossroads, at the corner of Hwy. 70 and Caribou Road. Boxes need to be addressed c/o Caribou Crossroads, P.O. Box 1, Belden CA 95915. The direct line to the store/post office is 530 283-1384. The whole Caribou Crossroads restaurant/store operation was up for sale at the end of 2017. The outgoing management said at that time, "We request that hikers note an estimated date of arrival and we will hold the boxes for two weeks before returning to the sender. If hikers have had a change, they can contact the store." I have received reassurance from the outgoing management that the next regime will continue to support PCT resupply operations. Based on what I saw in 2014, I do not believe a hiker could resupply out of the Caribou Crossroads store.

That, unfortunately, is not the end of the story here. Just a few weeks before I traded e-mail with the Caribou Crossroads management and received their reassurances about resupply boxes, Yogi had a different fix on it. In November of 2017 she warned in her latest book update that Caribou Crossroads was not accepting hiker resupplies and any boxes would end up at a post office 30 miles upriver in Quincy.

As of February 2018, it's unclear who is going to be running the show at Caribou Crossroads this season and what their relationship is with the postal service. Since Yogi and I received contradictory information from the same people just three weeks apart all I can say is you must do your own due diligence here (i.e.: call them) and proceed with great caution. As of early 2018 the Caribou Crossroads Web site had gone 404.



© 2000-2018 David Plotnikoff. All rights reserved.