Far North, October 2001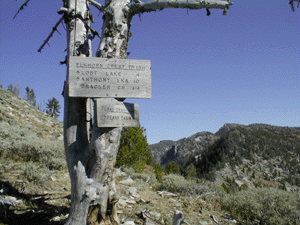 Our last two fall trips we ended up canceling, and for a while things didn't look so good for this one. But our destination may be one of the safest places in the event of terrorist attacks, and on Sept. 30 we boarded a plane for Portland, Ore., and then a few hours later a smaller plane to Pendleton.

Almost all this territory was new to me. David had visited La Grande, Ore., and Dillon, Mont., for his Wired West series last year, and he wanted us to go on vacation. In nine days, we drove almost 2,000 miles, hiked 45 and between us ate eight steaks.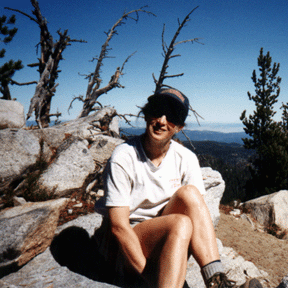 La Grande, Ore.
Our first night in La Grande we went to a rave. OK, it was really a 24-hour relay race up at the high school track. A handful of people were walking around the track and one or two running, but most of the participants were 10- to 17-year-old kids dancing to DJ music in the infield. Very "Footloose."
The next day we hiked about 20 miles on the Elkhorn Crest National Scenic Trail, south of town in the Blue Mountains. That took up most of the day. We ate at Mamacita's, an OK Mexican place. There was a woman there who had run her first marathon that day in Portland. Note to spouses: When your sweetheart runs his/her first marathon, do not take him/her to an OK Mexican place in La Grande.
Day 3 was our longest driving day, about 400 miles through four states. At one point we could get four radio stations and Rush Limbaugh was on three of them. The section through the Idaho Panhandle was nice, along the Clearwater and Lochsa rivers. Among the sights:
-- A big shed at the side of the road with a sign reading "$29 Spinal Adjustment $29."
-- Lovely paintings of leafy spurge and other noxious weeds.
-- A cool police action. I had pulled to the shoulder near Kooskia to let a sheriff's car by. About half an hour later, I caught up with him behind a slow car. There was no place for me to pass, and the car in front kept going slower and slower. After about 10 minutes, a state police car coming the opposite way made a U-turn and got behind me. I pulled over and let him by, too. We went on for a few minutes like that, the slow car, the two cop cars and us. Then the front cop car put on his lights, and when the slow car pulled off both cops jumped out with their guns drawn and started yelling at the driver. They waved us on, so we didn't see how it ended.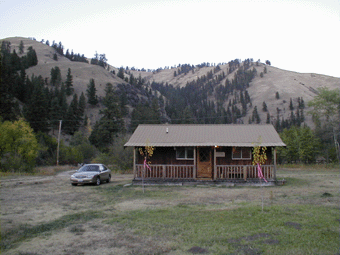 Bitterroot Valley
I had envisioned something more rustic, but for about 40 miles south of Missoula, it was a pretty drab looking stretch of semi-suburban highway, distinguished only by an amazing number of log-house companies. The scenery wasn't helped by a heavy pall of smoke from forest fires. Down near Sula, where we were staying, the burn area from the big fires of 2000 came right down to the road.
We had one of four cabins at Broad Axe Lodge, east of Sula on the East Fork Bitterroot. The owners were out of town and the restaurant is closed Mondays and Tuesdays, so we had the place to ourselves. I didn't want to drive all the way back to Hamilton for dinner. Luckily, the Rocky Knob Lodge north of Sula was still serving. Oddly, we were the only people in the dining room. Very chatty waitress of the type we kept running across: raspy-voiced, 60s, the type who would say "Go on now, shoo," to a bear in her garbage cans.
The next day we drove into Darby, and Dot at the USFS office loaded us up with maps, brochures and a cookbook. We picked a trail up the East Fork from our cabin. It, too, was in a burn area from last year. We walked about 10 miles (turned around a little short of the Continental Divide Trail) and saw four other people: two horse packers and two Forest Service employees with llamas. As we talked to the llama ladies, the llamas were humming. I had heard they did that.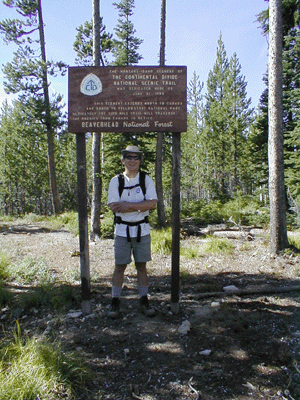 Dillon, Mont.
A short drive south of Sula we turned east on Chief Joseph Pass and at the top parked for another 10-mile walk on a stretch of the Continental Divide Trail. Actually, we walked on a dirt road along the divide -- there may or may not have been a footpath somewhere in the forest. We never saw it.
The drive through the Big Hole and then down to Dillon was very pretty. A lot of cattle. In one big meadow, a little orange tabby cat was stalking among the big cows.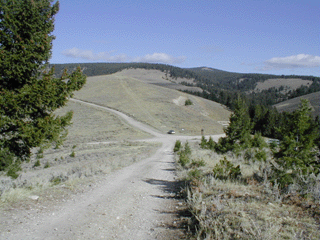 The next day's hike was also on the CDT, south of Lemhi Pass. We had been doing the Lewis & Clark Trail backward for much of the trip, and Lemhi was where they crossed the Continental Divide. I can't imagine many tourists coming through here for the bicentennial festivities, though; it's a very bumpy, narrow road, dirt most of the way. When it's wet, the ruts can get 18 inches deep. Anyway, it was dry, and our Taurus made it fine, but it was pretty cold and David didn't have long pants, so we walked for only a few hours. Then we drove a loop out to Idaho and back over the next pass. That night the weather channel said it was snowing in Dillon. We didn't see any snow outside the Comfort Inn, but it was in the 20s. The next morning as we drove back over Chief Joseph Pass we saw a lot of ice sculptures created by automatic sprinklers.
Ketchum, Idaho
We'd like to come back to the Sawtooths, an amazing-looking range, but I don't know where we'd stay. Up near Stanley, I guess, because Ketchum/Sun Valley was nothing we haven't seen at half a dozen other ski towns. (Overheard at dinner: "We decided to build a horse barn instead of getting a new car.") The drive between Ketchum and Stanley was pretty, and the chainsaw bear outside Smiley Creek Lodge is classic. The middle of the drive back to La Grande was pretty tedious, though, down to Boise and then along the interstate to Baker City. At Baker we got off and took a loop through the Blue Mountains. Lot of hunters out there; opening weekend.
Our last night in La Grande we didn't find any raves but we had a good dinner at 10 Depot. The next day, the day bombing started in Afghanistan, we drove to Pendleton. They were very cautious about carry-on luggage there -- they went through my purse, examined my cicada keyring, confiscated some other woman's tweezers. We all 15 of us got on the little plane, they fired it up, turned it off again and sent us to wait back in the airport while they called some guy from town to come look at a leak. We left about 70 minutes late, so we missed our connection in Portland, but that meant we had time for sushi at Rose City overlooking the taxiways.